Engagement sessions are typically 1 to 2 hours long and take place in an outdoor location of your choosing.  Future brides and grooms consider engagement sessions as a prime source for stunning images to be used for wedding favors, invitations or announcements, and displays.  But these sessions offer a lot more than that. 
Why you should do an engagement session: 
Wedding planning is an experience like no other.  You'll become an expert in fields you've never used before and will most likely never use again.  You are now an expert in stationary, know the first names of every deejay on the island,  and can guess to the dollar how much a wedding cake might cost just by looking at it.  You are pouring your heart and money into professional services that you might never see at work until your big day.  And your wedding photographer will be an integral part of your day.  They'll be right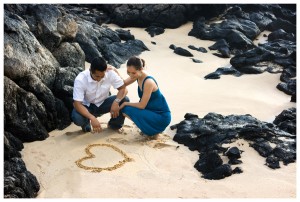 by your side while you're nervously waiting to walk down the aisle or when you're wiping away tears as you hold your beloved's hand.  And you're trusting them to capture these moments in images that will hold fast to your memories. 
Engagement sessions are a practical way to start building that relationship with your photographer well before the stress of your big day.  You'll get to see your photographer at work, learn how to respond to their directions,  and get an idea of how well your photographer is going to fit into your wedding.  Best of all,  the images from your engagement session provides you with a better sense of what your photographer is trying to achieve;  why they asked you to tilt your head that way, why they choose certain angles and positioning.  And, in reality, most brides do not have a professional modeling background.  You may have never worked with a professional photographer and it can be a new experience for brides and grooms who are not used to being in the spotlight and having so much attention focused on them.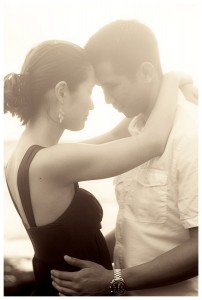 Photographs of my husband and I usually involve us making silly faces or doing the obligatory show-your-teeth-big-smile look.  So we felt a little awkward and klutzy going into our wedding formals on the day of our wedding.  We are definitely NOT models nor do we posses model-qualities.  Our wedding photographer was absolutely amazing and patiently worked to put us at ease and bring out our personalities.  So when we got to see our wedding pictures, the lightbulbs finally clicked on.    Oh, that's beautiful, that's why she had us look at each other or I didn't even know she was taking pictures of us then.  That's such a sweet moment.  Engagement sessions gives you a preview of your wedding day and what will really shine in your photos. 
Why your wedding photographer wants to do your engagement session: 
Some couples want to know if they can hire a different photographer for their engagement photos if they have already hired a wedding photographer.  Unless there's special circumstances, I strongly advise against it.  Wedding photographers usually offer engagement sessions to brides and grooms because of the added bonus to our work.  We want to get to you know so that we ensure that your photographs represent who you are as a couple.  An engagement sessions are an invaluable means to that goal, a time to build a relationship that we've started to form through emails and meetings.  To use different photographers for your engagement and wedding shortchanges you and your photographers.  A lot of wedding photographers might include an engagement session in their wedding packages.  To keep my packages as affordable as possible, my engagement package is separate but there is an incentive when you book an engagement and wedding through me.  Refer to the pricing guide under weddings for more info. 
Where to go: 
Choose a location that represents you.  Either choose a place that holds a special meaning for you or some place that reflects your lifestyle.  Some ideas 
location of the proposal
a beach where you two met while surfing
your first or favorite date
Or opt for a location based on its beauty or style 
a stretch of sandy white beach
sidewalks fronting architectural buildings