Happy Mother's Day!!!  It took me a long time and a long struggle to become a mom and so in my heart, I hold a special place and prayer for those who are still on their journey to becoming moms.  I think we should just take this weekend as a  wonderful opportunity to celebrate all the women in our lives: daughters, sisters, wives, and especially good friends.  Happy Estrogen Day!!!
I'd like to start off this Mother's Day weekend by spotlighting a beautiful friend and mother, who is due (literally) any day now with her second daughter.  I just have this little feeling that this weekend is going to be it!!!
Grace is a transplant all the way from Great Britain.  She met and married a local boy, Justin, from Maui (hey, Justin and I went to the same high school "Imua e na poki`i") and lovingly followed him to our little island chain.  They've made a home from themselves and their 2 year old daughter, Anu, on the windward side.
We were so stoked to meet Grace and Justin.  They're young and fun, quick-witted and quick to laugh.  Grace is a doting mom and also a talented photographer.  I absolutely love reading her photography blog but you have to read it aloud to yourself with a British accent to get the full effect.  It's what I do, much to the amusement of others.  Sigh.  What is it that makes accents so enchanting?  I could listen to Grace talk all day. Heck, I would pay her to read the newspaper to me in the morning.  If she ever has any time to set aside from motherhood and her photography, she should consider that as a possible career.
Actually, we were so enthralled to meet Grace and Justin and beyond impressed with their parenting style, that we asked Grace to care for our baby daughter while we were looking for a more permanent daycare.  And every day, my husband's one request was that Grace sing Mary Poppins songs to our baby girl.  We were hoping she'd pick up the cool British accent too.  She didn't, but she also doesn't talk much yet so there's still hope.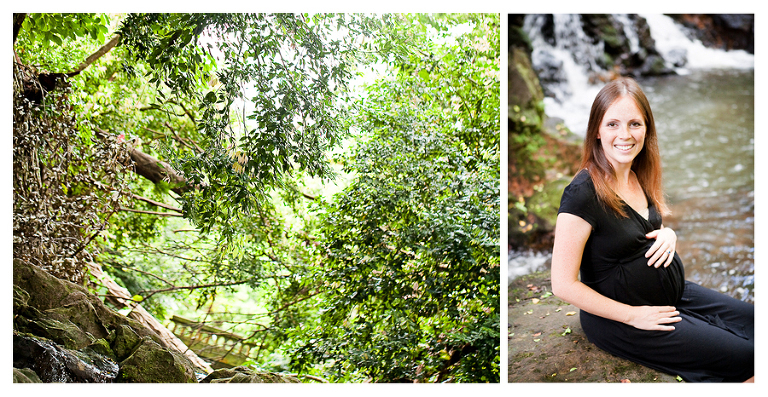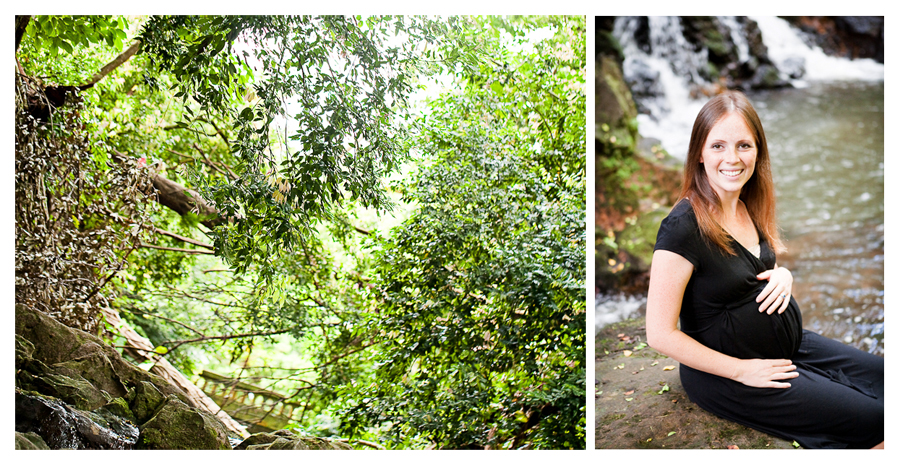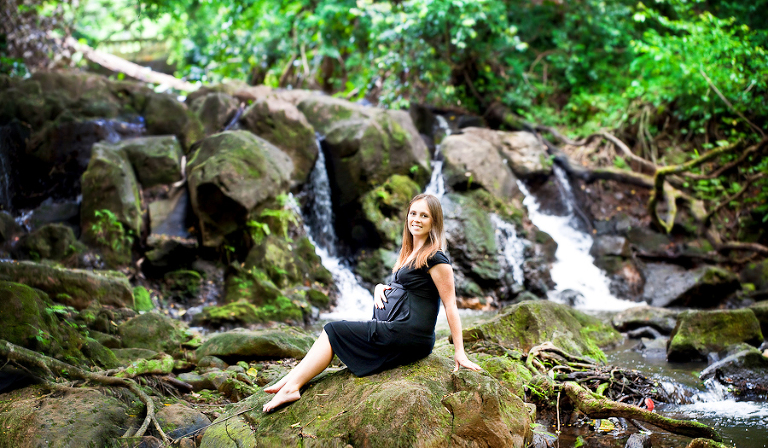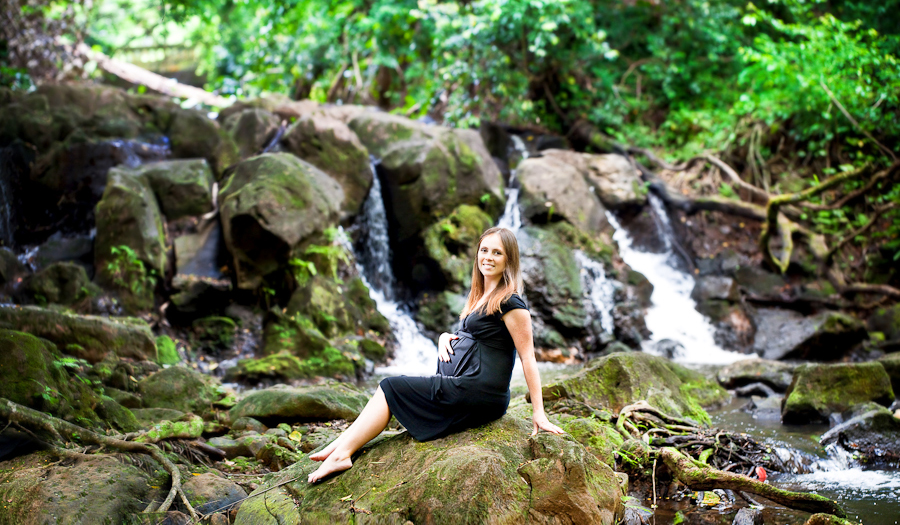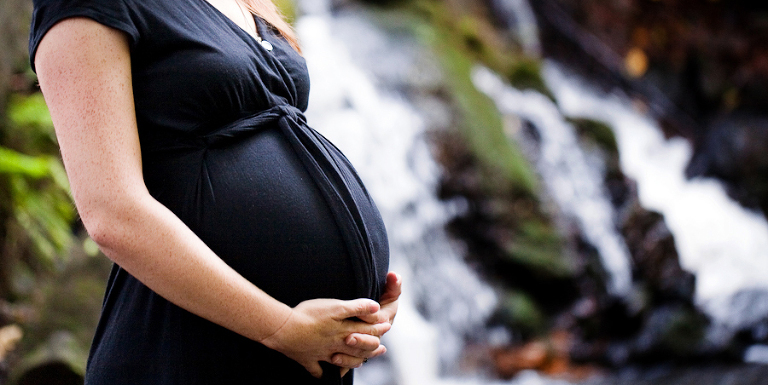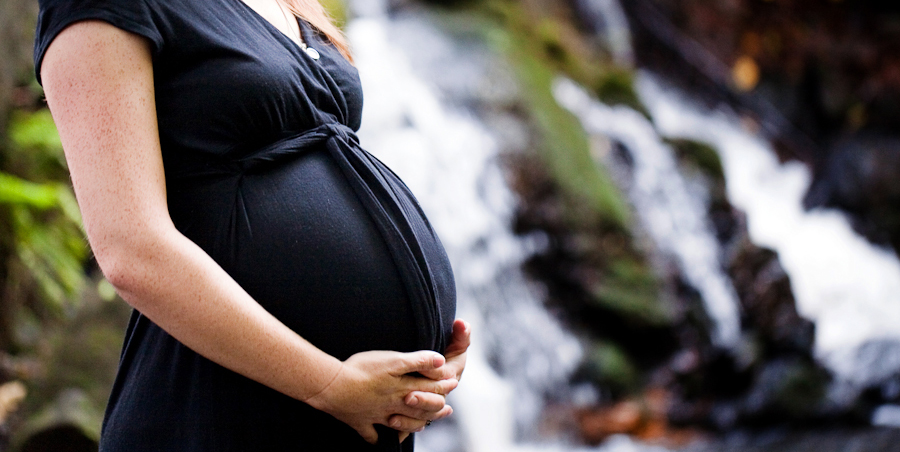 I've never been to Europe but Grace fits in here perfectly with the local culture.  She's easy-going and just rolls with things.  When she brought up maternity photos, she joked about finding a secret waterfall but she quickly laughed at the notion and said I had full creative direction.    But that little thought germinated and I had a blast coming up with a style and direction geared around a waterfall maternity shoot.   I didn't give her much information prior, I just told her where to meet me.  And she did without hesitation.   I am so grateful that she trusted me so thoroughly.  When we walked upon the clearing with a babbling stream and waterfalls, I felt like I was watching her unwrap a gift on Christmas morning.  It was awesome!  We had found her a waterfall maternity session, even if it wasn't a secret waterfall.  We were not alone in the woods and we did make a few friends along the way.
I have to thank the amazing maternity and newborn photographer, Lisa, for suggesting this gorgeous location along the Nuuanu Judd Trail.  I hadn't been there since I was in college and me and my girlfriends hiked to the little waterhole named Jackass Ginger, so it wouldn't even have crossed my mind.  Actually, Lisa did suggest it with some hesitation because she is all too aware of my complete lack of agility and finesse.  Fear not, pregnant mamas, I am a great standard on evaluating appropiate locations for maternity shoots.  If I can make it, then pregnant mamas can!!  Alas, I did almost gribble two times on stretches of completely flat and dry walking areas.  I caught myself both times but that didn't dull the shame of having the very pregnant Grace who was carrying two bags of outfits and an umbrella reaching out a steadying hand and asking me if I needed help.
Grace not only needed no help and handled everything with ease, she also managed an outfit change mid-jungle without skipping a beat.  I loved this pink dress.  Pretty in pink.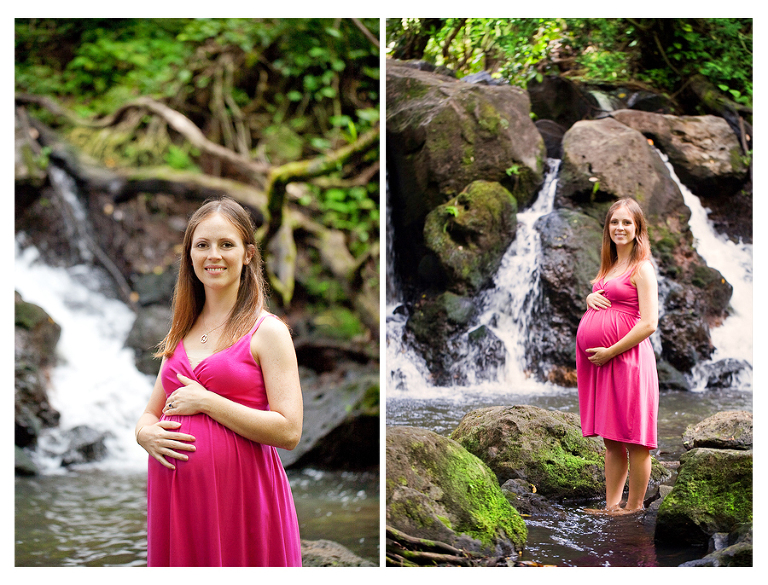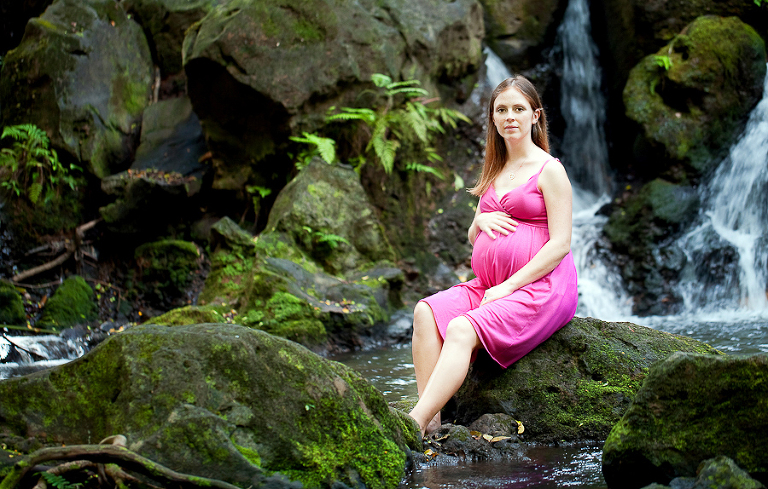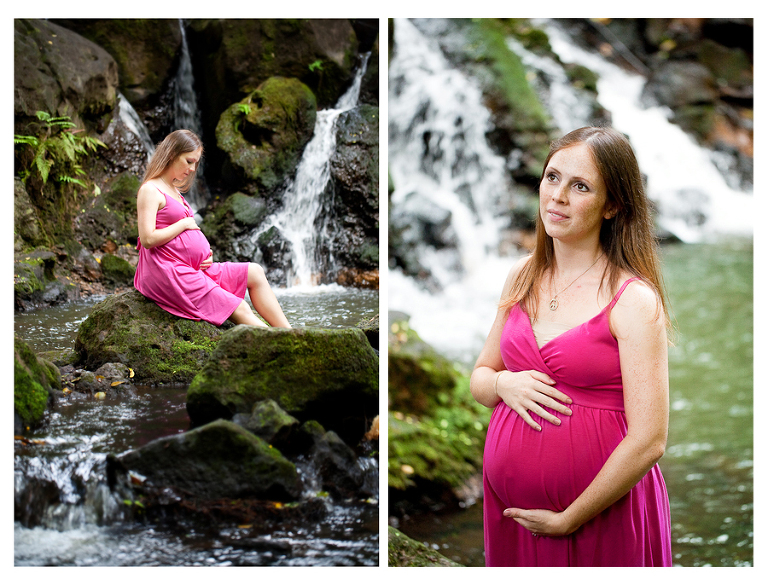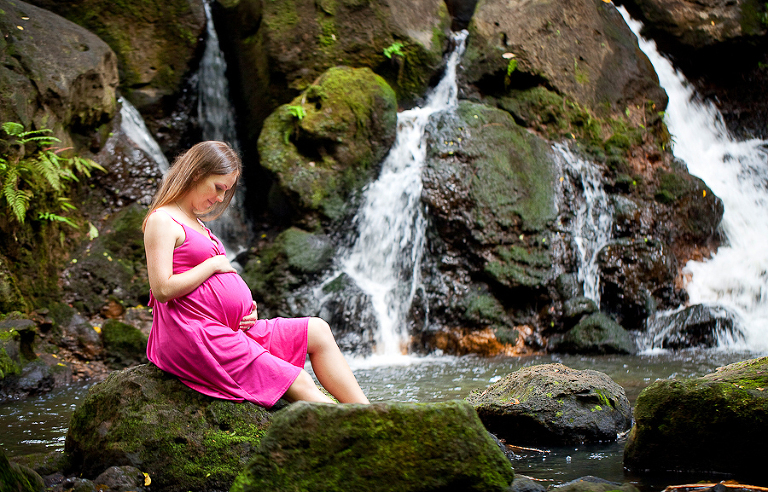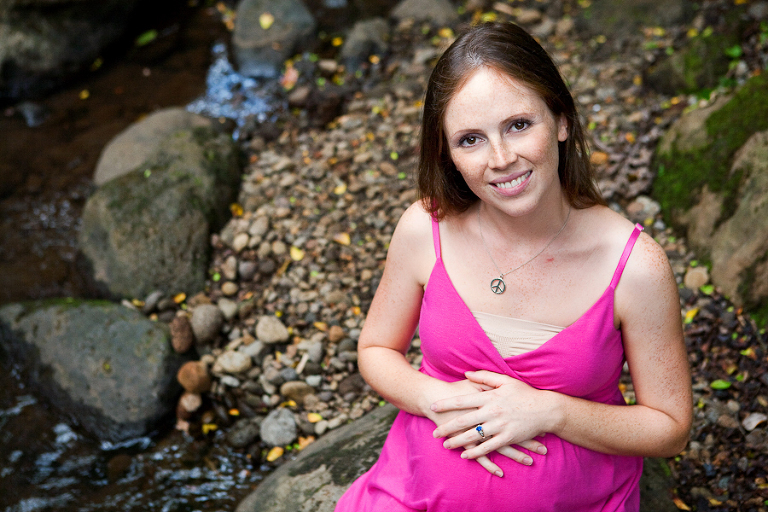 Grace, you're gorgeous!!! Besides the motherhood/photographer/newspaper announcer, I need to tack on "modeling" as another career choice for you to consider.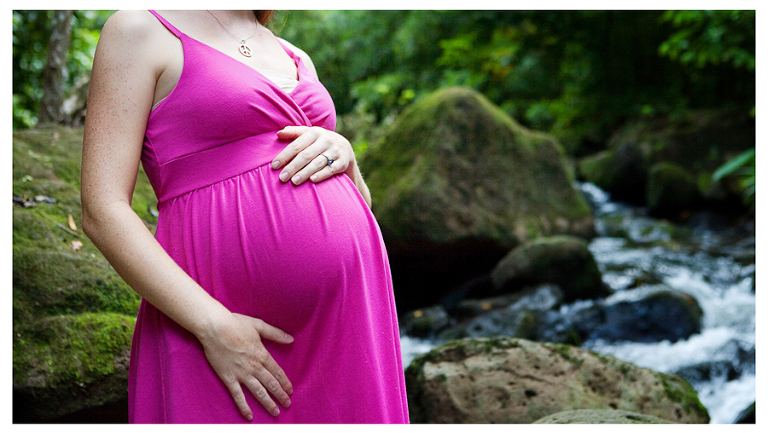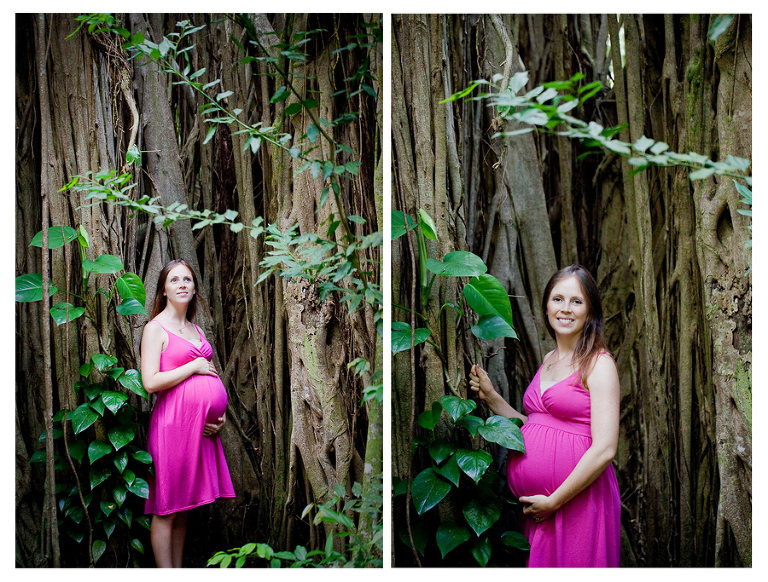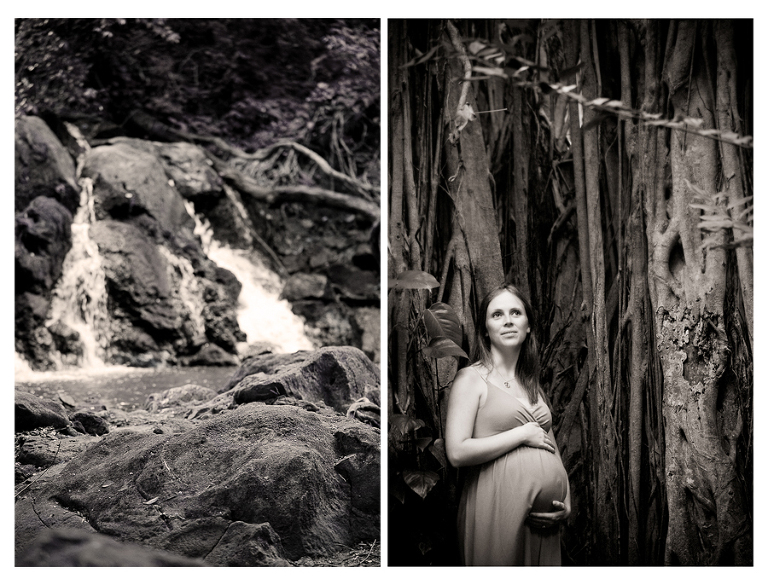 The following shot was achieved using a method popularized by a New York wedding Photographer, Ryan Brenizer.  It helps to achieve a super low depth of field in a photograph.  I wanted to play around with the technique and I'm thrilled to see that it worked out perfectly.  Love this one!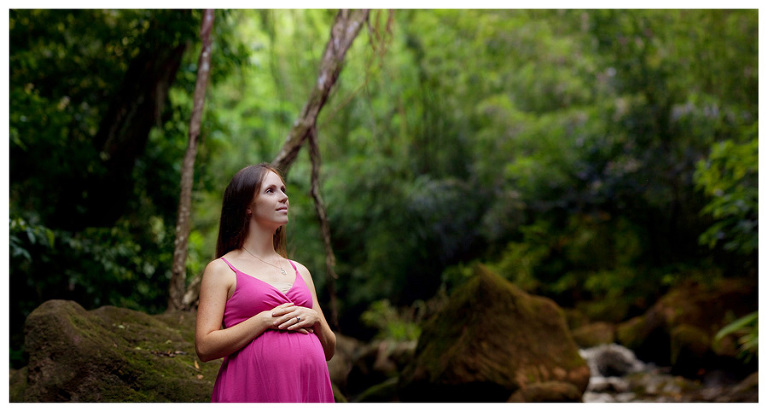 Justin, thank you for letting me hang out with your wife for an afternoon doing what we both love, photography.  Grace, thank you for scaling river rocks and offering to get in the ice cold stream water.  It was awesome and I'm already picturing an skydiving/surfing maternity session for the next baby.  I'll be waiting!  If you'd like to see this album and more, check out their album on my Facebook page.