Intended for: Anyone with a sweet tooth
I got caught up the other day reading back to my early blogging days.  It spurred the desire to blog more and to add more of me into my writing and make it a little more personal.  So, to start it off,  I've decided to launch a campaign to share some of my favorite things.  Move over, Oprah!!!  And while you lucky readers may not be able to reach under your chairs for the free IPAD I placed there, you can see pretty pictures instead.  Ooooh, doesn't that sound nice?  And a lot easier on my wallet.  So, Friday Faves will highlight some of my favorite treats, photoshop techniques and tips, activities, pictures, and gadgets that make my life sweeter and easier.
My first Friday Fave is a shout-out to S'mashing S'mores from Trader Joe's.  I'm a notoriously picky eater.  I don't know what happened.  I've seen my baby book and I didn't exhibit any early signs of food snobbiness.  But somewhere between then and now, I've developed a long, extensive list of dislikes.  I can't sing along to local songs on the radio because "I (don't) like my fish and poi."  No fish, no poi, no nuts, no beans, no pears, no ham, no caramel….I'll stop there.  It would probably be easier if I just name things I do like.  And living over 2,000 miles from any contintent, we all hear that same question whenever you know someone readying for a trip to the mainland.   "What do you want from Trader Joe's?"  I never had an answer.  I have all these unopened bags of candied nuts or organic who-knows-what that were brought back as gifts for us and they're just sitting on our counter.  This past Christmas, this all changed when my mother-in-law brought home these cartons filled with ooey-gooey morsels of deliciousness called S'mashing S'mores.  Oh, now I eagerly await the next wave of friends traveling to the mainland for my next Trader Joe's fix.
The name kind of says it all.  They're a take on the classic childhood treat.  These perfect bite-sized (or 'two bites'-sized) treats have a graham cracker layer topped with a cushy marshmallow filling and the whole treat is capsulated in a rich, decadent chocolate shell.  Simply divine as it comes, it rockets to a whole new level when you pop them in the microwave for just 6-8 seconds.  It warms up the marshmallow perfectly to give it a real creaminess.  If there's any small fissure or opening in the chocolate shell, it will just start to ooze out in a sweet, fluffy eruption.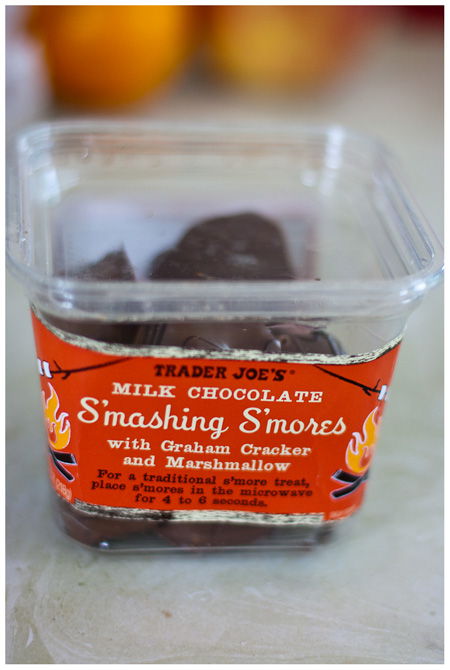 So, if you're going on a trip.  Ask me.  Just ask me what I want from Trader Joe's.  I'm ready for you!!!