ALL CLASSES HAVE BEEN FILLED!
Class Description: Want to take better pictures?  Want to take your shiny dSLR off auto mode?
Keao's Photography is hosting the next small group "Beginning Photography Workshop" in January.  This makes a perfect Christmas gift for friends…or for yourself!
Learn about your dSLR in an intensive, hands-on workshop taught by Oahu family and wedding photographer, Keao Sunaoka.  Learn easy composition tips to improve your photos and you'll be taking that camera off of the "P" mode.  Say good-bye to the green box on the dial!  This class is created with the beginners of all levels and is also wonderful for those who have taken photography classes and need a refresher.  It integrates instruction, practical exercises, Q&A.
Check out photos that past attendees took during this incredible class in this article feature.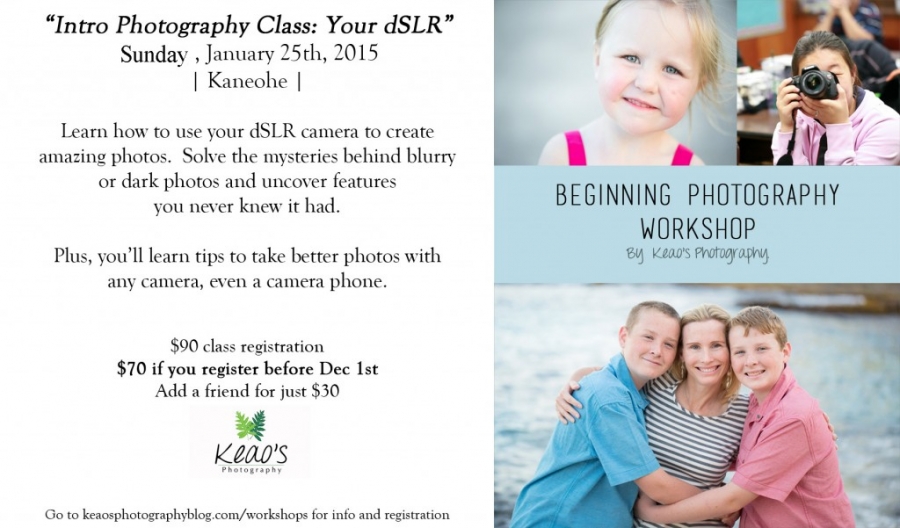 We will cover:
-Composition tips to enhance photos
-How a camera works
-How to clean and care for your camera
-Controlling focus
-Exposure Compensation
-The Exposure Triangle (ISO, aperture, shutter)
-Controlling exposure in all modes (including manual)
ALL CLASSES HAVE BEEN FILLED.
Please follow Keao's Photography on Facebook to be notified about future classes.