Want to take better pictures?  Want to take your shiny dSLR off auto mode?
Keao's Photography is hosting the next small group "Beginning Photography Workshop" this October, just in time to master your camera before the holiday season arrives.  Learn about your dSLR in an intensive, hands-on workshop taught by Oahu family and wedding photographer, Keao Sunaoka.  Learn easy composition tips to improve your photos and you'll be taking that camera off of the "P" mode.  Say good-bye to the green box on the dial!  This class is created with the very beginner in mind or those who have taken photography and need a refresher.  This workshop are kept to small groups and integrates instruction, practical exercises, and Q&A.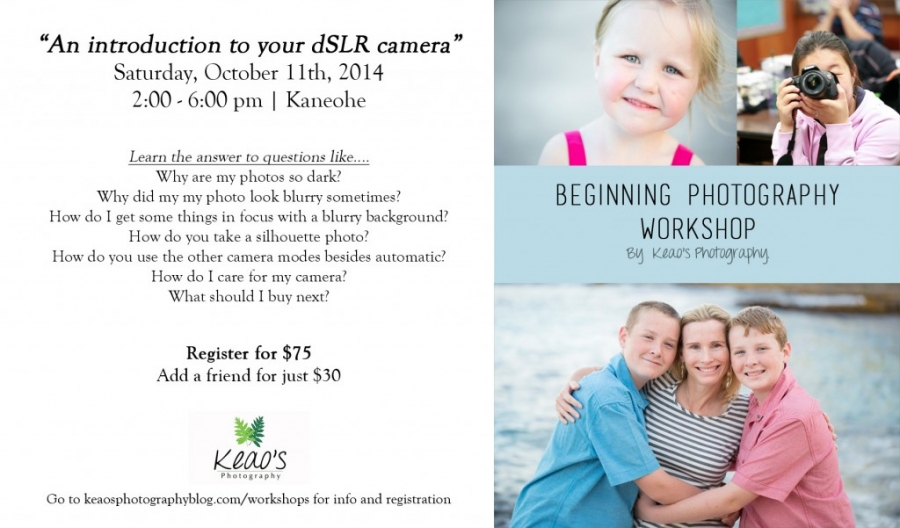 Class will cover:
-Composition tips to enhance photos
-How a camera works
-How to clean and care for your camera
-Controlling focus
-Exposure Compensation
-The Exposure Triangle (ISO, aperture, shutter)
-Controlling exposure in all modes (including manual)
REGISTRATION CLOSED.  This class has been filled.  To sign up for the next workshop, please email keao@keaosphotography.com or use the contact form above.
 In addition to the many years photographing weddings and family sessions, Keao has also worked in education and is experienced. , Keao works in education (yeah, science nerds!!).  Drawing upon her expertise with photography and curriculum development, Keao has created photography workshops to teach those who want to learn a lot but have limited free time.  In just a short time, you'll get a wealth of information in a capacity and pointers you can start using right away.