I've been holding on this maternity session for so long, it's been agony.   Nina and Hadden had experienced a loss in their journey to become parentst but were happy to find that they were pregnant again.    Rainbows, or na anuenue in Hawaii, appear after the storm.  They don't lessen the heaviness of the storm before it, but bring a reminder of hope and promises of what lies ahead.  They felt so uncertain throughout the pregnancy but with just weeks left, realized that the hope and promises had come true and they were now just a few weeks away from meeting their daughter.  Nina emailed me after looking for a Honolulu maternity photographer and apologized for the short notice.  No problem!!   I'm such a planner and love having everything scheduled to the day for the next 3 months, but I also love the spontaneity of meeting new people and helping make their dreams come true.
And Nina had a very clear vision of how she wanted to remember this time.  She had become an avid surfer and surfed throughout the first six months of pregnancy.  She is convinced that it helped her get fit (um, yes, wait to you see her stunning physique) and she found her sessions in the ocean to be a peaceful, healing experience.   She wanted to capture the feelings of calm and joy surfing brought to her pregnancy.  Also, she and her husband are just living here for a few years and they wanted to showcase the aloha spirit so they could always remember what a special place their daughter would be born in.
We met on a crowded weekday afternoon and Nina wore this beautiful gown with deep colors.  She didn't hesitate when it was time to jump in the water.  The sun was setting behind the harbor and the sky was pink cotton candy with tinges of violet.  Now mind you, this was not an underwater maternity photography session.  Although I brought an underwater camera, the water was a bit too murky.  So, I just waded in…very very very carefully…holding my precious land-loving, non-waterproof camera.  Oh, boy, my insurance company would have had a fit if they saw.  But as soon as Nina got in the water, magic started happening.  She had always wanted the iconic slopes of Diamond Head as the background and the ocean was just beautiful.  And Nina was such a great sport when I proposed that she try lying back on her board.  It was definitely not easy, the ocean may look calm in the photos but there were some good-sized waves rolling through.  But my assistant, Joy, was in the water right next to her and Nina made it all look effort-less.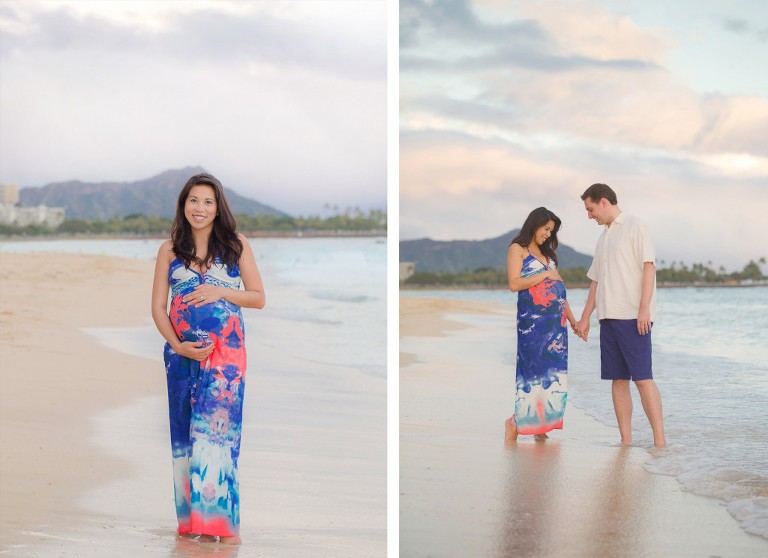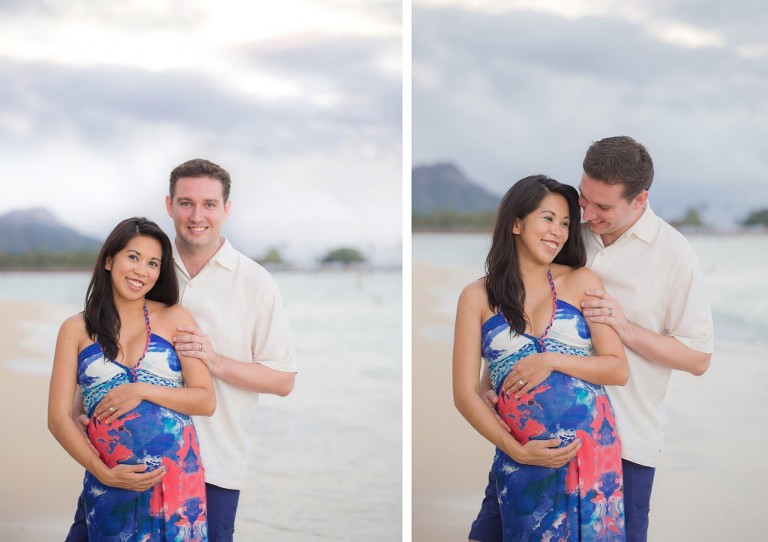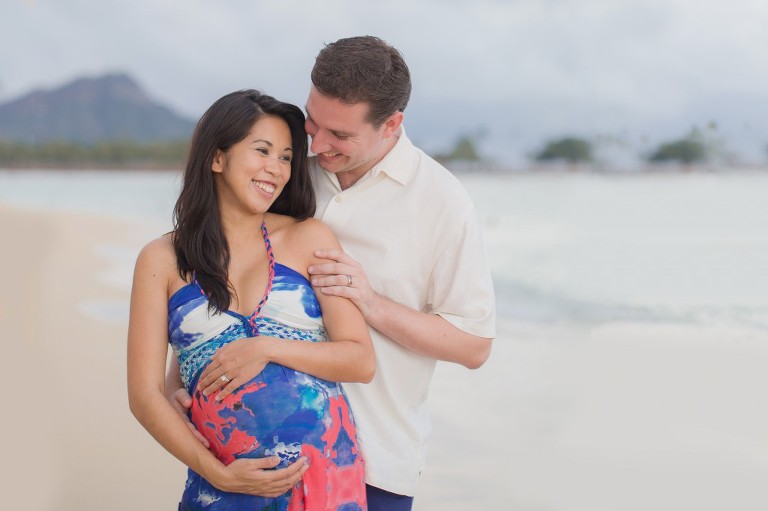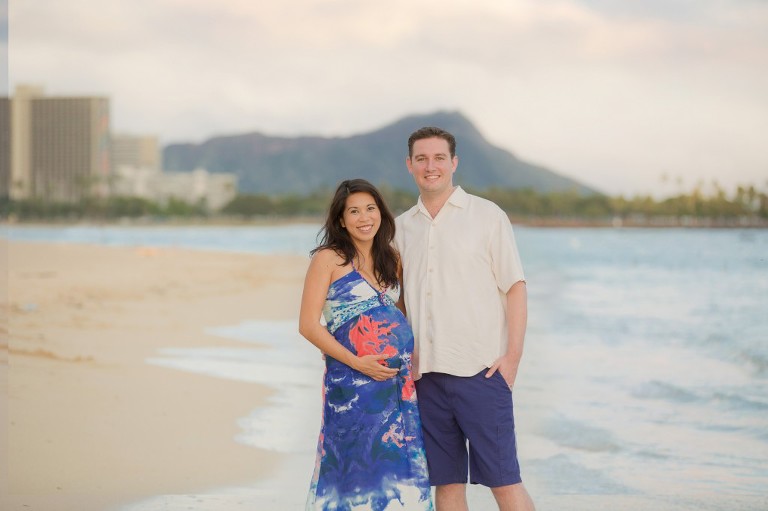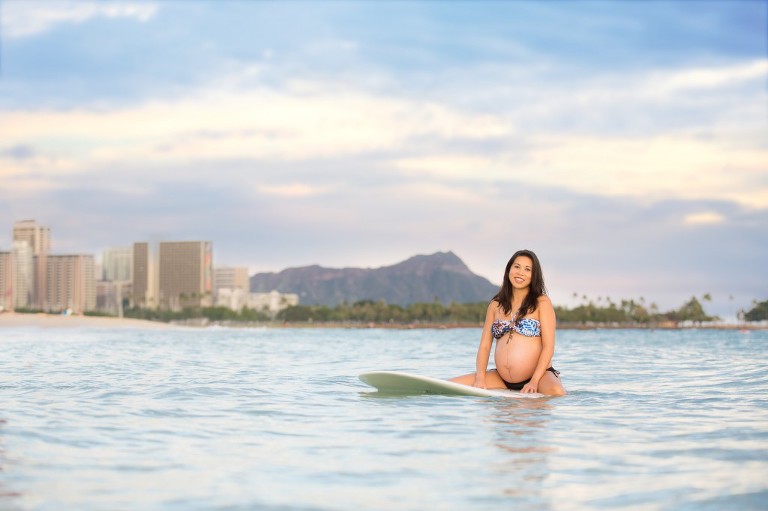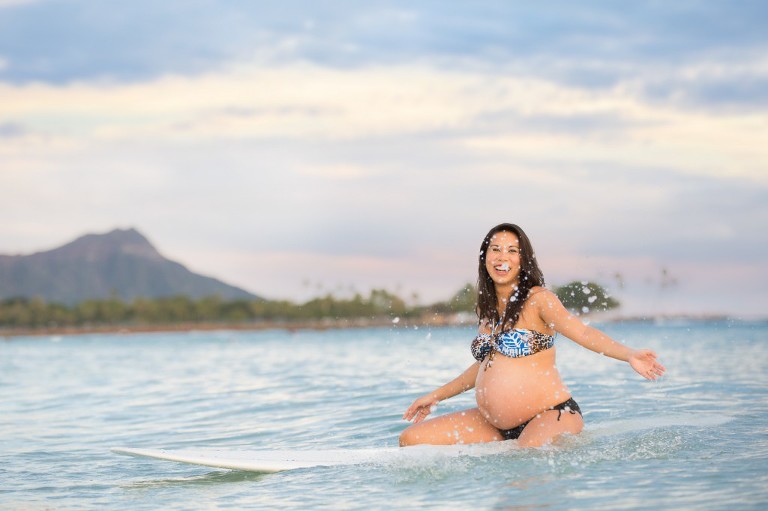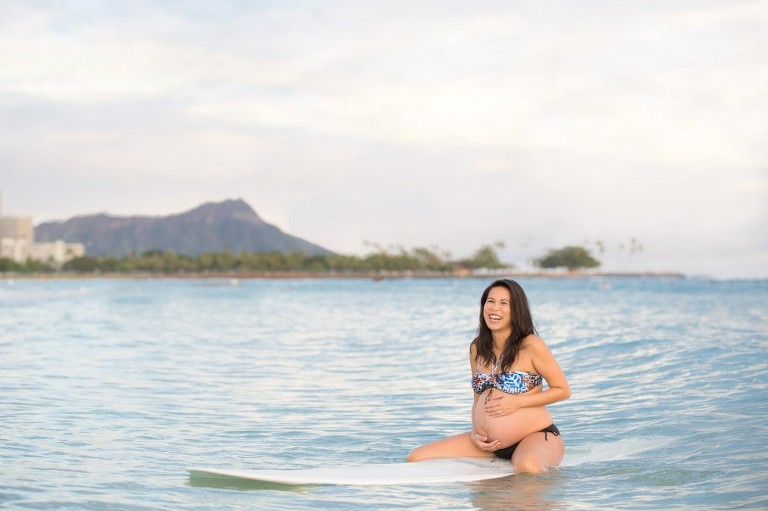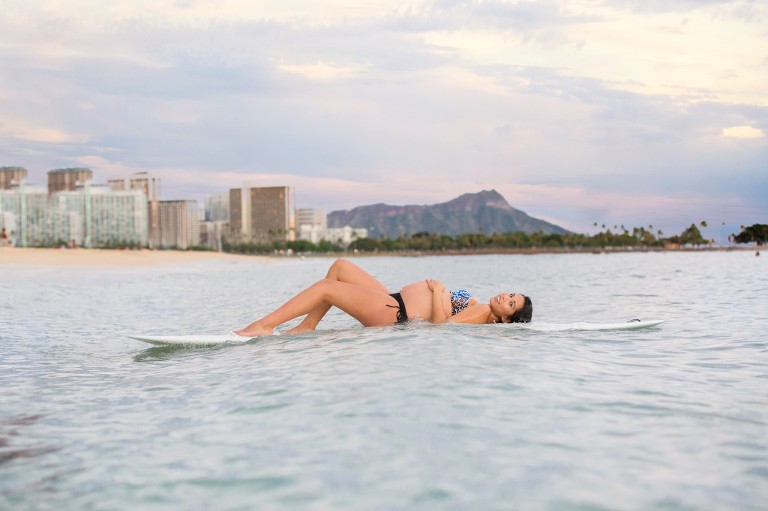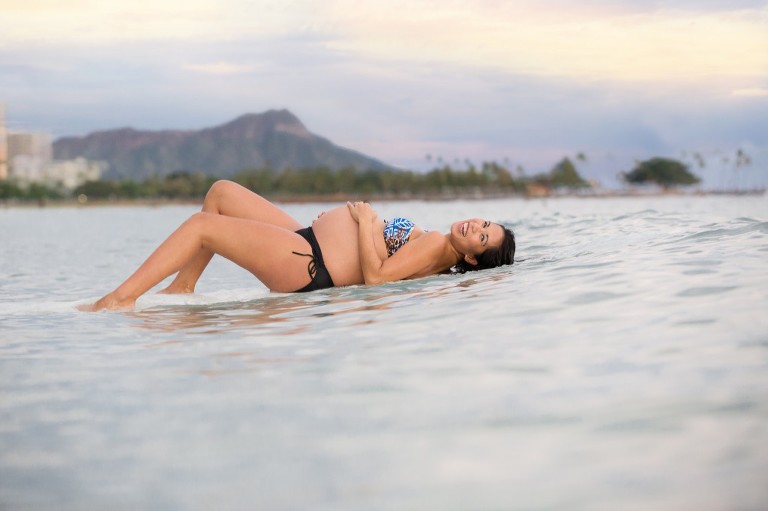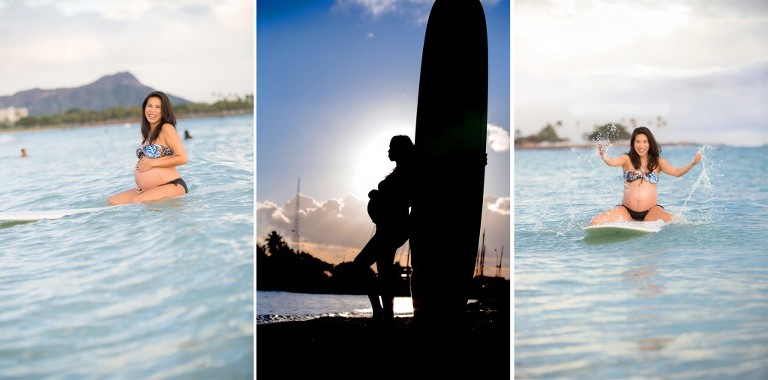 Here is what Nina had to say on our Facebook page. "I went to Keao with an idea in mind for my maternity shoot and she took it to the next level! I wanted to get pictures of myself on a surfboard which was not easy at 37 weeks but Keao was totally enthusiastic. She literally jumped in the water with me. She made me and my husband feel very comfortable. The pictures came out beautifully and she took other set ups that I hadn't thought of but now love. I will cherish the pictures forever and look forward to hopefully working with her again for future family photos. I also would like to add that my shoot request was very last minute but Keao could not have been more accommodating. It was also great to have Joy, her assistant, there to help make the shoot even more fun." 
Thanks for the kind words, Nina!!!  Congratulations to both you and Hadden!  A truly special little girl born in a truly special place.
Looking for maternity or family photos here in Hawaii? Contact me for more information on how to book your own gorgeous photo session.  Keao is a Honolulu  photographer on the island of Oahu and available for family and wedding photography on all islands.