I'm a Big Island girl.  You can take the girl off the Big Island but you can't make her throw away her high school soccer shorts and long-sleeve flannel shirts.   It just ain't never going happen.  With the insane prices of airline tickets and the demise of the unloved Super-ferry, I manage to visit home a grand total of once a year.  So, in December, Scott and I used some airline coupons that were about to expire to take a quick two-day field trip to the Big Island.  We visited my little sis who lives in Pauuilo and we also visited some friends who work a koa farm there as well. 
It never fails.  As soon as we step off the plane in Hilo, the inquisitive thoughts start my mind churning.  Could we move here?  Would I be able to find a job here?  Would Scott be able to find a job here?  If he couldn't find a church to work at, would his ten-year degree in history come in handy in the Hamakua work field?  As we drove our borrowed white min-van through the endlesslly rolling hills of Parker Ranch blanketed in thick, billowing fog, I start daydreaming of the amazing photo shoots I could have.  There's literally so many open fields with wooded back drops and snowy mountain peaks dotting the horizon.  It would be a huge toy store for me that I could get lost in.  Truthfully, I don't know if the Big Island economy would be an easy place to restart a photography business.  It's simple country living where you work hard for what you need, not what you want.  Hopefully, one day I'll get a chance to try anyways.  
First it was family time.    We grew up in Honokaa, a good 'ole sugar plantation town but she recently found a place 10 minutes down the one single highway.  I think Honokaa is getting too big for my country family.  She met us in front of Pauuilo store which is their bustling town center.  I may tease a little but Scott ate some sushi from this rustic gem that he claims was spectacular.  We met Genesis there and then followed her to her new home that she shares with my dad and her boyfriend, Marti.  Marti is a champion rodeo rider/player/rodeoer?   Apparently, sometimes when you win an event, they don't give you just a little metal trophy.  Sometimes you win an engraved saddle as your trophy.  Marti's trophy saddle was proudly displayed in the living room next to the TV and we city folks made the mistake of asking if he ever used it.  That earned us a scoffing laugh and a head shake.  So, now we know.  It's a proud display of accomplishment, not one for actual use.  
 Then we visited our good friends, Kawika and Pua, and their three munchkins.  Kawika and Pua are from our home church on Oahu but had moved to the Big Island to work a koa tree farm.  We love that family to pieces and were excited to visit them.  Wouldn't you know it though?  Upon our visit, they found out that they were in fact moving back to Oahu in just a few weeks.   Probably for the best.  Pua is expecting their fourth and considering that their hospital is an 1 hr 20 min drive away, I think she's relieved be back somewhere a little more accessible.  
When you take photographs of children, there is a bit of apprehension beforehand.  You may not know their individual personalities yet, if you're going to meet a bubbling, camera-adoring starlet or a sweetly shy angel who shies away from the camera.  And even camera babies have their shy days.  These following pictures are proof to parents not to worry.  Relax and let your children just play.  This sibling pair gave me stern warning looks when I pointed the camera at them and asked for cheesy smiles.  They were intent on taking advantage of the muddy puddles left by previous rainstorms.  So, I hunkered down on the grass and captured them in their element….young innocent children playing out their childhood days.   And I loved every shot.  These, to me, captured their personalities and these moments a thousand times better than a posed/sit together/look up/smile picture.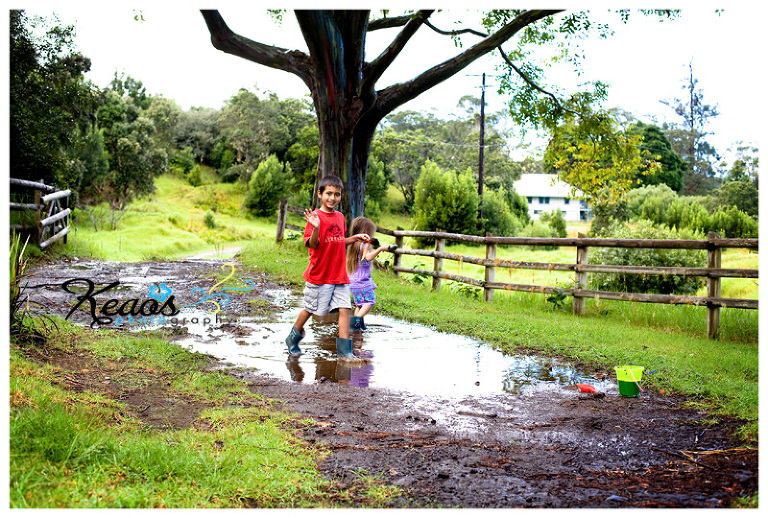 Germinating koa seeds are planted in [Middle] dirt bundles and left to see which ones yield [Right] koa tree "babies""]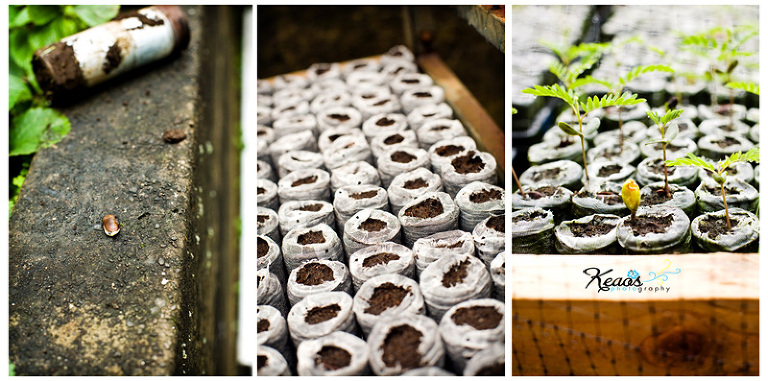 Isaiah is a creative visionary.  While slinging mud, he exclaimed that he would love to have his own poster.  He came up with the image and his own slogan.  I may have taken picture but this is his vision.