I just posted about the epic reach of social networking sites like Twitter and Facebook so it's fitting that I post this particular sneak peek from a senior portrait session.  Let me explain.
Megan is a senior at my alma mater, Kamehameha Schools.  The first thing I asked Megan when planning her shoot was if she had any ideas of what she might want.  Megan mentioned that she spent  much of her time in school at Midkiff, the school library.  She was thinking of using the library as the setting for her shoot.  Aaah, a girl after my own heart.  I used to spend my free period and my lunch period in the carrolls in Midkiff.  The adult version of me is kicking the high school version of me for not taking full advantage of those free high school lunches, especially hoagie sandwich Tuesday!   But I loved the library and I thought the library was such a cool idea.  Unfortunately, I learned that Midkiff is only open on school days and during school hours.  It's a school library. Go figure.
I did some scouting sessions to some of the public libraries but I knew it would be just so much cooler if I could recreate the feel of the library in a totally different setting.    I had an image in my head of the classic school desk with the hidden drawer and everything.  I had just two days until the shoot and no idea where to find one, short of breaking into a school.  On a whim, I posted on facebook asking if anyone had a desk.  Within the hour, I had two responses complete with pictures for me to select from.  Janelle had the exact desk I remember from being in school and I was able to pick it up the next day.
Today's sneak peek from Megan's session would not have been possible without the help of Facebook, Janelle (who has this desk sitting in her house for reasons I forgot to ask), Joy, who lugged the desk through downtown Honolulu, and Megan, who makes it look easy to be that beautiful.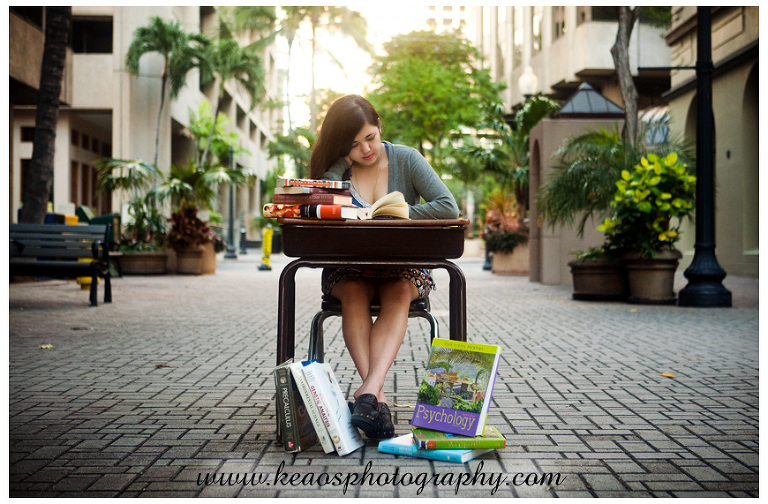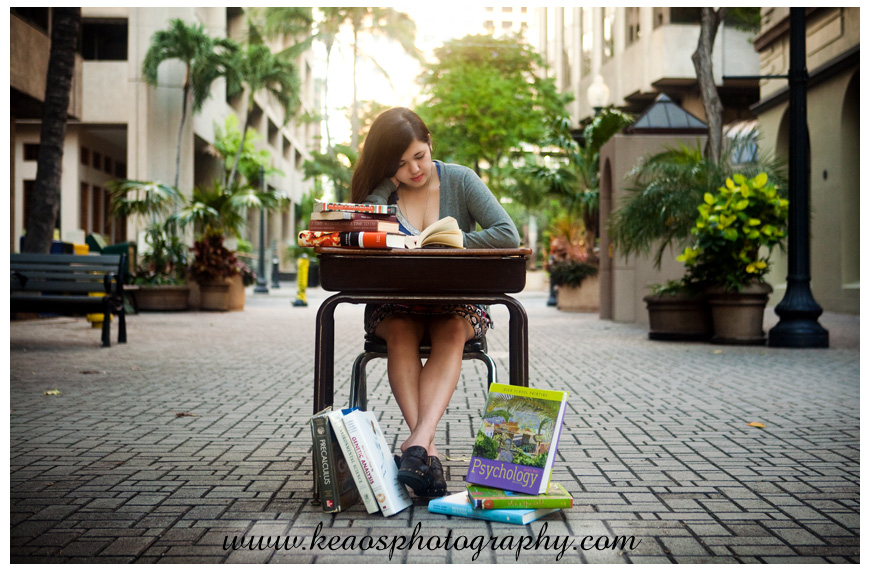 Tell me what you think.  Stay tuned for the more pictures from this fun shoot in downtown Honolulu.