Intended for: Cookie Monsters
I'm not a fan of most sweets but my weakness is the simply sweet chocolate chip cookie.  I'm a purist.  I like my cookie void of frills like oatmeal or nuts and a little chewy.  Hands down, my favorite chocolate chip cookie is from a company that specializes in creating sandwiches, Subway.  You can buy buy individual cookies or buy 3 cookies for under a buck and a half.  You'll get three large discs that have baked to a lovely bronze hue and filled with a generous portion of chocolate chips.    They're my weakness and I used to be able to eat one and save the others for later but no longer. I lost my willpower a long time ago.  I just can't resist the chewy goodness and they soon disappear bite by bite.
There's a Subway particularly close to my house and I'm a frequent customer.   Only recently did I notice something.  My husband loves to fill out surveys and he's a big fan of Panda's Express which has an offer on every receipt.  If you go to the site described on the receipt and fill out a quick survey, you receive a code for a free item on your next purchase.  All these years of going to Subway weekly and I never thought to look at my receipt until just last week.  I almost did a dance in shock.  Every receipt gives you a unique code.  Use those codes to fill out the online feedback form about your experience at that particular Subway store and you receive a coupon for a free cookie!!!  What?!!!  Are you kidding me?  A free cookie?  At the rate I eat those cookies, I'll save so much money I can take a trip to Disneyland.
Next time you're at Subway, look to see if your receipt gives you a code to visit the customer feedback
site
. 
 The survey takes just a minute or two.  I love the store near our house.  The staff are friendly and efficient and don't even blink an eye at my list of detailed demands on how I want my sandwich made (see end of post).  The only suggestion I might make to Subway is that they add a drive-thru lane.  I don't know how feasible that would be but I would be willing to wait out the line in my car.  And I tip my hat to a company that values their customer's opinions and satisfaction.  Another fast food establishment nearby has gotten our orders wrong the last three times and I was really disappointed to find that there's no way to give customer feedback online.  They're lucky their fries are so good, I keep going back for more. Anyway, after you complete your survey, a coupon for a free cookie will be emailed to you.  All that's left is to redeem and enjoy.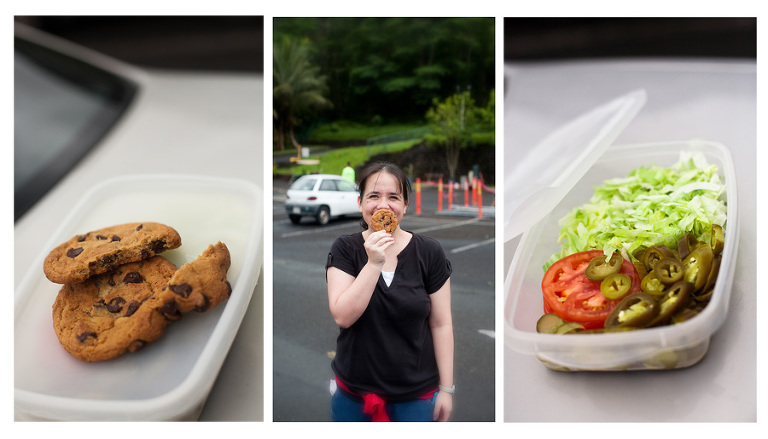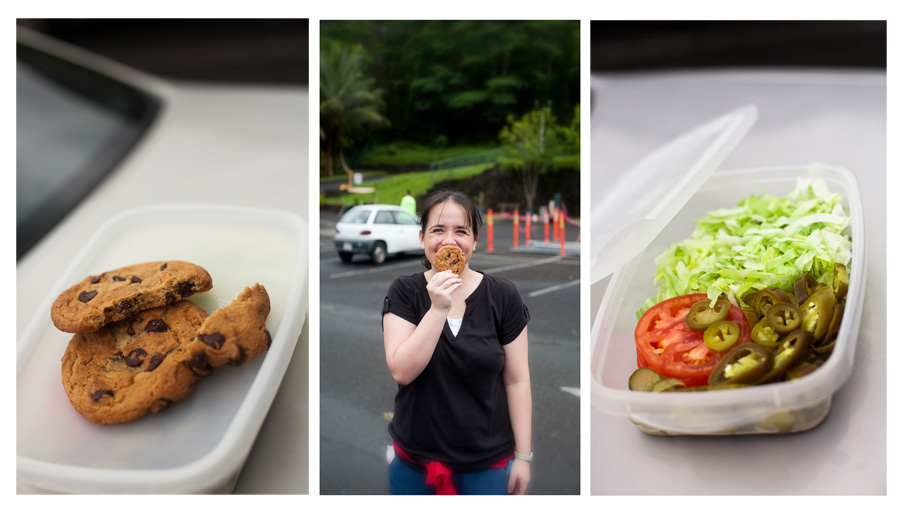 I do need help breaking my addiction to today's Friday Fave. Is there a support group I can join? Seriously, they are delightful but not especially healthy.   These cookies alone have thwarted my efforts to lose the baby weight.  I've started a running program in hopes to justify my daily treat of these delectable treats.  It's complete worth running for.My other tip:  Subway is a go-to when I need to take meals to work.  I pick up a foot-long and eat half for lunch and the other half for dinner. The sandwich stays much more fresh if I ask for condiments and the veggies on the side and add them in right before I eat it.  I even bring in my own container for the veggies. Yes, I like me some jalapenos. Mmmmm, spicy.  Come back tomorrow for photos from Mike and Beka's family session at the Royal Hawaiian Hotel.