I'm terribly behind in blogging some very attention-deserving sessions, but I can't resist taking a break to have a little fun with some adventures from my personal life.   I wanted to start off by taking you home with me to the Big Island.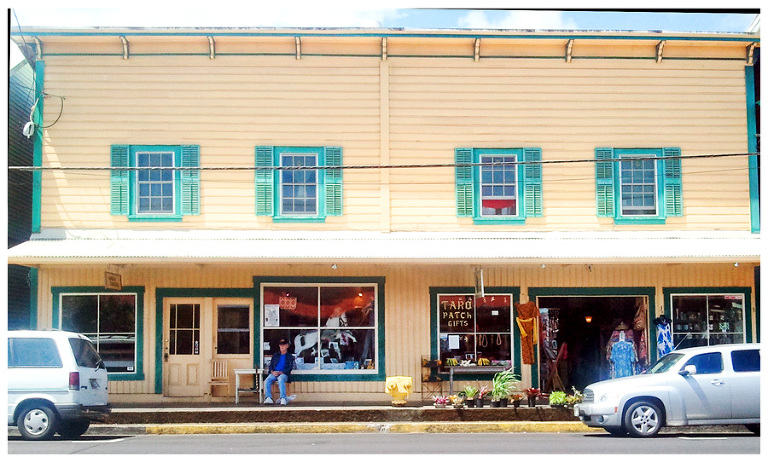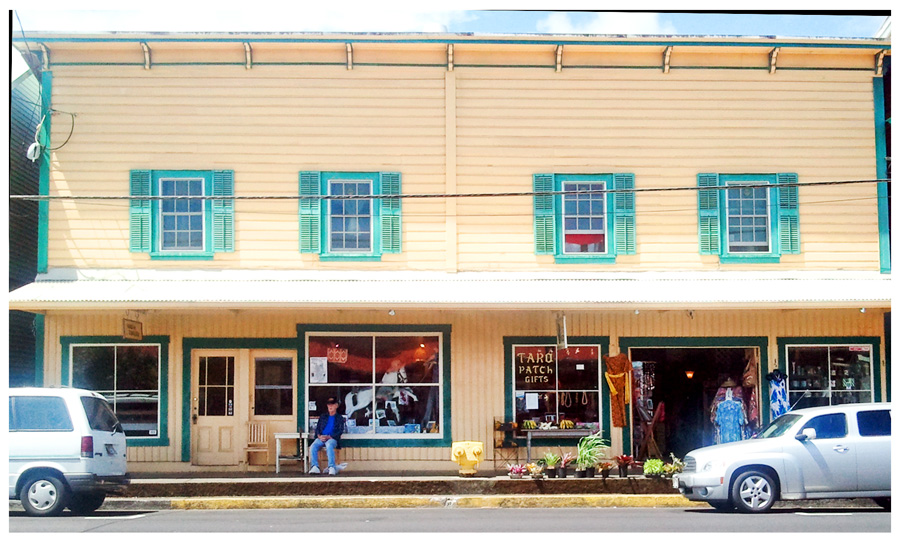 There's something to be said about knowing where you're from.  If the Hawaiian islanders were responsible for training the CIA in extensive interrogative methods, the entire workshop would last about ten minutes and teach its attendees to ask the following two questions:
1.  Where are you from?
2.  What high school did you go to?
Sure, there might be other questions that some might consider important.  What do you do for a living?  What are your life goals? If you were stranded on an island, what five historical figures would you want in your camp?  But most often, if we're short on time, we bust out out the basics.  Answer those two questions and you'll get a knowing harumph from the other party as they are now officially satisfied that they know who you are.
Me?  I'm from the Big Island.   Yup, I said Big Island.  Despite the teeny tiny fact that I've actually lived on the windward side of Oahu for well over a decade now, I still have the habit of referring to the Big Island as my home.  Growing up on the Big Island leaves an indelible mark on you that doesn't wear away easy.  I think it has shaped so much of who I am.  For one example, I think it's one of the reasons why I'm not exactly known for being a fashion beacon.  I'm not saying that fashion-forward people don't live on the Big Island, I just didn't grow up around them.  We wore shirts and jeans.  Dressing up to me means wearing a dark pair of jeans.  I happen to think black rubber slippers goes perfectly with a dress or skirt.  The last time my dad visited me, his special "sunday church" outfit consisted of a clean T-shirt and his "nice" surf shorts.  Hmmm, maybe I might have to shift some of the blame for my fashion IQ from Big Island living to the fact that I was also a tomboy raised by a single dad.  I currently have four or five pairs of shoes: slippers, running sneakers (still new enough to have adequate arch support), everyday sneakers (retired running sneakers), and 1-2 sandals for weddings/anniversaries/job interviews.  Actually, that's not totally true.  I tend to wear slippers for anniversaries.  I figured my husband is locked in already, I can wear my comfy slippers on our night outs.  I actually hate wearing shoes and have trouble driving if I'm not barefoot.
It's a different world from where I am now and there's nothing like getting back there once in a while.  My husband and I make it a point to make the trek over to the Big Island once or twice a year to visit my family and my childhood stomping grounds.  Honoka`a is a charming, quaint little town that is nestled along the Hamakua coastline, perched in an endless stretch of green fields overlooking the blue streak of the Pacific Ocean.  The town itself lies along a short strip of road parallel to the highway (and the word highway is a bit of a stretch).  Small little shops whose architecture still remains a throwback to the plantation days line the road and create quite an attraction to visitors passing through.  I was boasting about this picturesque town to my hubby and he asked what kind of shops and businesses made up the main strip.   I was so embarrassed but I had to admit that I actually didn't know.  According to my trusty map, there were an assortment of shops that included bakeries, real estate and law offices, and gift shops and yet I had no memory of any of these places.  I had lived there almost my entire life but had never stepped foot in any of these places, for some mysterious reason.  So, on our trip last year, we decided to play tourists and find out for ourselves.
These pictures are from our trip last year but they're so funny, I have to share them.  They make me laugh.  These are signs that you might be in (or from) Honoka`a.
First, we started off with breakfast at one of the tourist landmarks that help put Honoka`a on the map, Tex Drive-Inn.  Tour buses stop here on the long trek around the island just to let visitors get a taste of their amazing malasadas.  I remember when they were just a small little shop right next to the laundry mat that is across the street.   Thanks to booming business, they relocated into a larger establishment and are able to keep up with the increase in crowds.  But as your business grows, you might find yourself facing critical decisions.  For example, how do you handle your signage when they can't keep up with your changing layouts.  What choices are you left with?
1.  Move the sign.
2.  Order a new sign.
or…
After a tummy-loving comfort breakfast of loco mocos, we headed down to Honoka`a town proper.  We parked our car and started meandering through the town.  I soon discovered why I had never really visited most of the shops in town.  They were all closed.  We were a little surprised.  Yes, it was a weekday but it was about 10:40 am, surely this would be considered normal business hours for most.  So, we started peeking in windows and, much to our delight, found signs from store owners that truly displayed the charm of a small-town and country living.  I snapped quick shots of just two examples with my cell phone.  How adorable are these?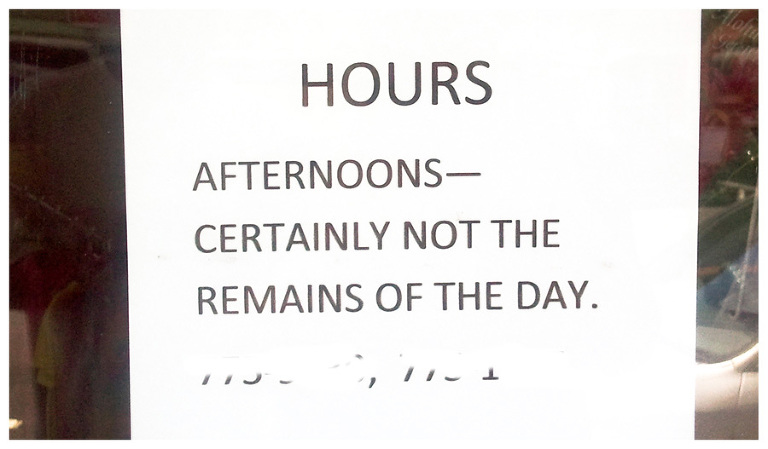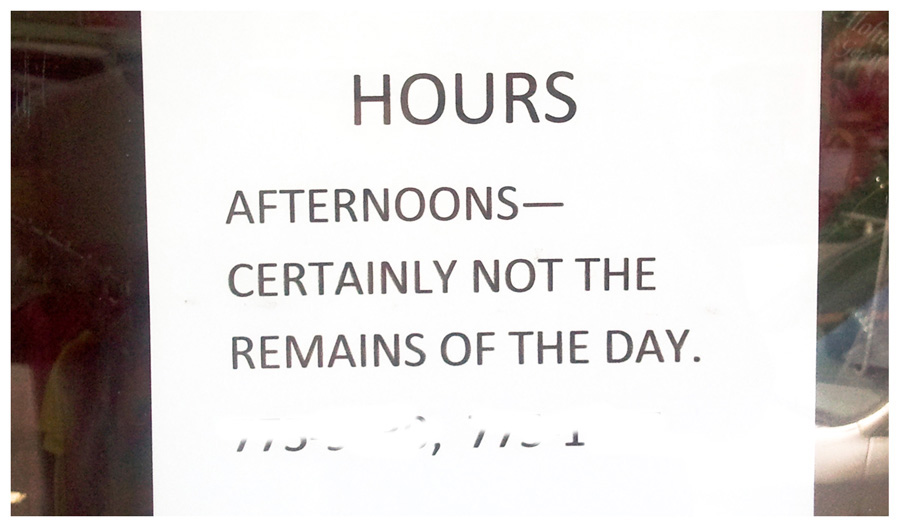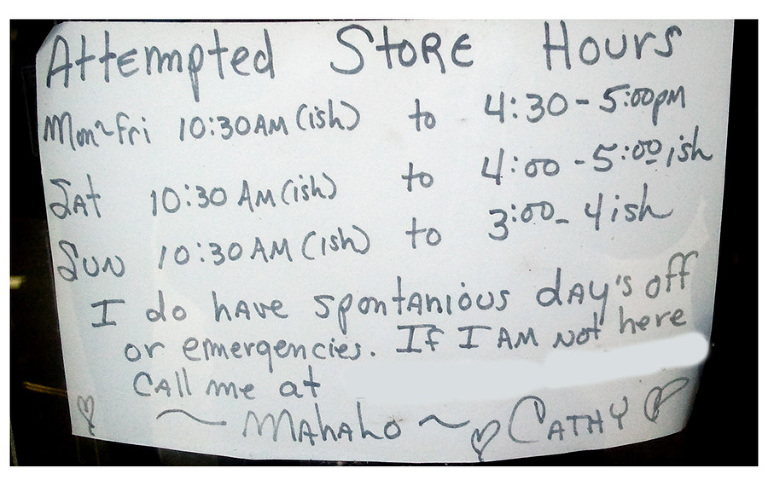 We walked down the strip and shop after shop entertained signs of the same theme  "Welcome.  Call me if you want to come in, I'm just at home and can be there in no time at all."  
So our tour of town went a little faster than expected.  We most certainly could have called any of the phone numbers freely displayed on the signs in the store windows and I can guarantee the store owners would have been at our beck and call within ten minutes.  Hospitality and kindness runs abundant in this town and its people, but we were truly just browsing and thoroughly enjoying our morning walk so we didn't want to bother anyone.  Still, we were so amused that I couldn't help but share our delight with you.
This last picture is not taken in my hometown but rather in the bustling city of Hilo on the Big Island.  Remember my fascination with being barefoot.  I think it might be a Big Island.  I was walking through Hilo when I saw this.  This is my dream.  To have an office and a job where I can proudly work barefoot all day long.  I'm putting this one up on my fridge as a daily reminder of that dream.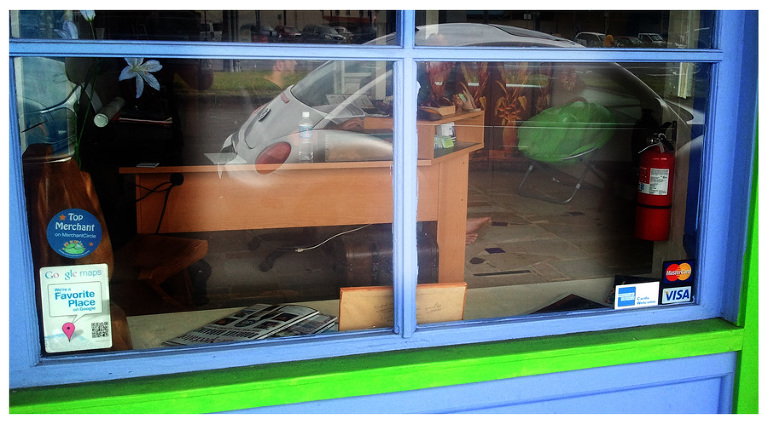 So, now I just have to know…where are you from?